The right to marry is not just a topic of Family Law but it has its roots in Constitutional Law as well. This article deals with the different religious laws of marriage, also the landmark cases related to it, and the international perspective. In the end, the article will deal with the current scenario and the critical analysis of the acts.
Introduction
Marriage may be a universal human institution that has formed the inspiration of the family throughout history. It generally means a voluntary union of one man with one woman to the exclusion of others. While the traditions surrounding marriage ceremonies, the rights and obligations of marriage, the way of selecting one's marriage partner, and even who all are permitted to marry may differ from culture to culture.
In Article 16 of the Universal Declaration of Human Rights, the right to marry is not expressly recognized either as a fundamental or constitutional right under the Indian Constitution. Though marriage is regulated through various statutory enactments, its recognition as a fundamental right has only developed through judicial decisions of India's Supreme Court. Such declaration of law is binding on all courts throughout India under Article 141 of the Constitution.
Explanation with Statues
Marriages are considered to be a universal social institution and an integral part of mankind. In India, there is no single legal framework governing the institution of marriage, specifically with the intent of upholding the tenets of religious freedom and safeguarding the fundamental practices of various faiths and beliefs that constitute the country. A unique feature of the existing matrimonial law in India is its vibrancy and diversity in consonance with the country's heterogeneous population. Marriage is an institution that binds two people together for eternity. India is a secular country where people have a constitutional right to follow any religion as per their desire. There are different religious personal laws that lay down marriage laws in India.
Hindu Marriage Laws
The Hindu Marriage Act, 1955 was intended to secure the rights of marriage for the bride and groom who are Hindu and are bound under the sacred bond of marriage under any ceremony. The law does not define the kind of ceremony since there are several ways a man and a woman may carry out this religious act. This act was floated after several cases were seen where both man and woman were petrified or humiliated under a fraud case in the name of marriage. This act is binding to any person who is Hindu, Jain, Sikh, and Buddhists and is not a Muslim, Christian, Parsi, or Jew and is governed by some other law. This law is binding to any person who is Hindu by Birth or Hindu by Religion. There is a complete definition of Hindu under Section 2 of the Hindu Marriage Act.
Section 5 of the Hindu Marriage Act lays down the conditions for a marriage to be symbolized between any two Hindus.[1] Under the Hindu marriage and court marriage rule, there are certain conditions that have to be complied with before marriage is valid in India:
The persons getting married must be unmarried and must not have a living spouse from their previous marriage
The legal age for a woman is 18 years and for a man is 21 years
The sanity of mind is necessary for both the parties and they must be capable to give their consent to the marriage freely
The persons getting married must be mentally fit for the marriage i.e. they must not be suffering from any mental illness
Both the bride and groom should not be 'sapindas' of each other except if it is allowed under their respective religious laws
Muslim Marriage Law
The Muslim Marriage Act was drafted into the Indian legal system in the year 1954. The Act regulates the solemnization of marriages among the Muslim community in India. According to this Act, both the groom and the bride are to consent to the marriage of their free wills. A formal, binding contract verbal or on paper is considered integral to a religiously valid Muslim marriage and outlines the rights and responsibilities of the bride and groom. This Act applies to all Indian citizens, whether residing in India or abroad. The State of Jammu and Kashmir is excluded under the ambit of this Muslim Marriage Act, though residents domiciled in other states but residing in Jammu and Kashmir would qualify for these provisions.
Conditions required for a Muslim marriage are-
The necessary presence of a proposal (hijab) and the subsequent acceptance (qubool) as it is a contractual relationship.
Presence of free consent of both the parties involved in the agreement.
A consideration (Mehr) for the completion of the contract.
There should not be any necessary legal obstructions to the culmination of the marriage.
It is important for witnesses to be present to look over the contractual affair. The number of witnesses differs according to the accepted belief system of both the Sunni and Shia Muslims.
Christian Marriage Laws
Christians are the second-largest religious minority community after Muslims in India. The marriage of Christian couples is governed by the Indian Christian Marriage Act, 1872 which stipulates the primary condition of the presence of a priest of the Church or minister for the solemnization of the wedding. According to The Indian Christian Marriage Act of 1872, the following are required to be fulfilled to constitute a valid marriage-
The age of the Bridegroom must not be under twenty-one years and, the age of the Bride must not be under eighteen years.
Both the parties of the marriage must give voluntary consent to the ceremony and should not be obtained by misrepresenting facts or under compulsion or undue influence.
Neither party should have a living spouse at the time of the marriage.
The marriage must be performed in the presence of a person licensed to grant a certificate of marriage and at least two reliable witnesses.
Section 4 of the Christan Marriage Act, 1872 provides for the conduction of Christian weddings under its provisions. By virtue of this Section, besides the marriage ceremony between a Christian and another Christian, the Act also legitimizes a knot between a Christian and Non-Chrisitan provided it is solemnized under its provisions.[2]   
Parsi Marriage Law
Parsis marriages are regulated by the Parsi Marriage and Divorce Act, 1963. Essentials of Parsi Marriage in India are-
Marriage shall not apply if, in any degree of consanguinity that is both contracting parties relate to each other and share the same ancestry.
Marriages are not valid in Parsi Law when marriages are not solemnized by the priest with two Parsi witnesses in attendance.
A marriage shall not be accepted if the husband is 21 years old and the wife is 18 years old.
When marriage is not valid as set out above, a child born out of that marriage will be illegitimate.
Section 3 of the said Act lays down the conditions essential for having a legally valid Parsi matrimony.[3] Section 4 of the Act says that you have a right to remarry if it's unlawful.[4]  
Special Marriage Act, 1954
The Special Marriage Act deals with inter-caste and inter-religion marriages. Inter caste marriage is a marriage between people of two different castes. The days had gone by when people used to marry wherever their parents decided to blindly. The youth now have their own saying and choice and prefer to marry someone who is more compatible with them than marrying someone who belongs to their caste or religion. It is them who have to live for the whole of their life with their partner and therefore, caste or religion is not a matter of utmost consideration now at all. Love is a beautiful emotion, and something like caste or religion should not weigh it up. All religions are equal, and marriage shouldn't be a big deal among them. We are conferred on caste or religion by birth and not by choice, so why are people of the lower castes seen with shame and disdain? India is a diverse country, and it is a pity to see things like this happening here. The Special Marriage Act is, therefore, a special law enacted to provide for a unique form of marriage by registration wherein the parties to the marriage do not have to renounce their religion.
Section 4 of Act[5] which is analogous to Section 5 of the Hindu Marriage Act, 1955 provides for certain conditions that are necessary to be met in order to deem a marriage to be legally valid. These are the conditions to qualify for a marriage under this Act:
The bridegroom must be at least 21, and at the time of the marriage, the bride must be at least 18 years of age. This is the minimum age limit respectively for a boy/girl to marry.
At the time of their marriage, both parties must be monogamous; i.e., they must be unmarried and at that time should not have any living spouse.
In order to be able to decide for themselves, the parties should be mentally fit, i.e., they must be sane at the time of marriage.
They should not be related to themselves through blood relationships; i.e. they should not be subjected to prohibited relationships that otherwise act as a ground for dissolving their marriage.
Article 21 of the Indian Constitution
The right to marry a person of one's choice is integral to Article 21.[6] The Constitution guarantees the right to life. The Supreme Court in the case of Lata Singh v. State of Uttar Pradesh said that this is a free and democratic country and once a person becomes major he/ she can marry whosoever he/ she likes.[7]
This right cannot be taken away except through a law that is substantively and procedurally fair, just, and reasonable but People who are suffering from vulnerable diseases even before marriage are not entitled to the right to marry.
Landmark Cases
Shafin Jahan v. Asokan K.M & ORS[8]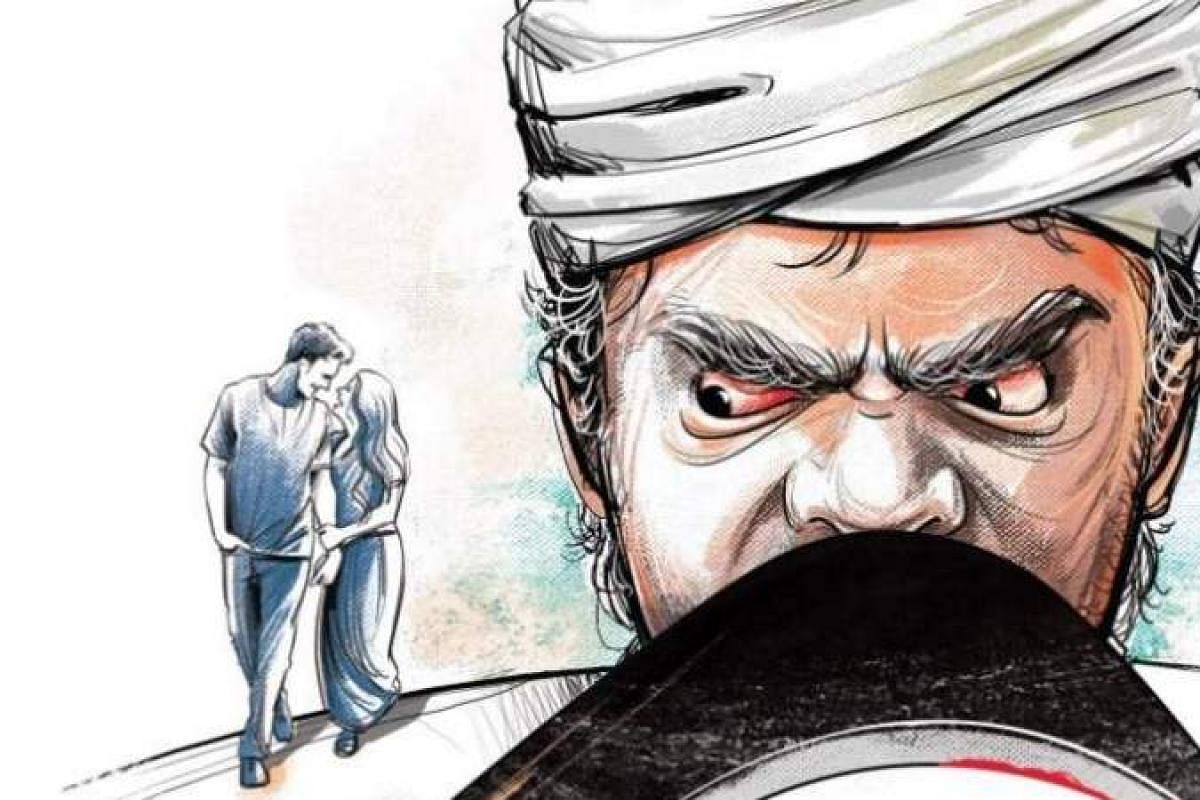 This case was a fresh row over a woman's right to marry the person of her own choice in India. Hadiya's right to marry by her choice was challenged by her parents in the Kerala High Court. Her father filed a habeas corpus petition in Kerala High Court under Article 226 of the Constitution after she got married, stating that she was brainwashed by some religious fanatics. The state High Court upheld her father's right over her choice and gave custody to her father despite the fact that she is 25 years old.
Hadiya, who previously was a Hindu, converted to Islam to marry a Muslim man. Hadiya was 25 years old when she got married but the Kerala High Court annulled her marriage in May 2017 terming her weak and vulnerable. The High Court's decision was challenged by Hadiya's husband, who filed a special leave petition in the Supreme Court that ordered an NIA probe in the matter. On November 27, 2018, the apex court took Hadiya's testimony in open court and freed her from her father's custody. The Supreme Court allowed Hadiya to continue her studies in a Salem college and to live with her husband.
Shakti Vahini v. Union of India
After the Puttaswamy case, the Supreme Court in the case of Shakti Vahini v. Union of India[9]held that the right of a person's choice to marry whom she pleases is an inherent part of individual dignity and intrinsic to Article 21. The court opined that- "It has to be sublimely borne in mind that when two adults consensually choose each other as life partners, it is a manifestation of their choice which is recognized under Article 19 and 21 of the Constitution. Such a right has the sanction of the constitutional law and once that is recognized, the said right needs to be protected….."
Current Scenario
In the case of Navtej Singh Johar v. Union of India,[10] The Supreme Court's ruling granted same-sex couples the freedom to lead a dignified private life, but allows them only "basic right to companionship so long as such companionship is consensual, free from the vice of deceit, force, coercion, and does not result in the violation of fundamental rights of others".
At the same time, the Centre has opposed any move to accord legal sanction to same-sex marriages in India. Decriminalization of Section 377 of the Indian Penal Code does not automatically translate into a fundamental right for same-sex couples to marry.
Other than same-sex marriage, the right to marry is a fundamental right of every female above the age of 18 years and every male above the age of 21 years. Also, legally citizens of India have the right to marry someone of their own choice but in real-world parents do force their children to marry someone of their own choice.
International Perspective
Universal Declaration of Human Rights, 1948
Article 16 states that the state parties shall take all appropriate measures to eliminate the discrimination against women in all matters relating to marriage and family relations. Section 16 further implies that men and women both should have the same right to enter into marriage and should have free consent to choose their spouse as well as the same responsibilities.
European Convention on Human Rights
The ECHR Section 12 says that all men and women have the right to get married and start a family after attaining the legal age to get married.
US Constitution
The most important right as a citizen of the United States of America is to get married to the person of your own choice. The right to marry cannot be denied.
Conclusion
Legally, every individual has the right to marry and to be in a marriage contract. But unlike any commercial contract marriage is not limited in its scope. Marriage is the core structure and the foundation of a family and social relation. A couple as a citizen of a nation and as a member of society owes their responsibilities to the family and society.
The right to marriage is subject to national law, every nation has its different laws related to marriage. India is a nation with many religions. There are different laws for different religions. This law prohibits marriage between certain people. And these laws also lay down the essentials and the conditions for marriage. Although the government is able to restrict the right to marry, it must not impose restrictions that may impair the very essence of the right. However, the up-gradation of the laws is needed to make them more inclusive and to keep pace with the changing times.
FAQs
Who can marry?
In order to enter a legally recognized marriage, the couple intending to marry must not be closely related (for example, you cannot marry your brother or sister), should be above 18 years and 21 years for girls and boys respectively, and not already married or in a civil partnership.
Should marriages be registered?
The registration of Hindu marriages is not compulsory. But some states in the Indian Union have enacted legislation to make marriage registration compulsory (such as Andhra Pradesh, Delhi, Goa, Gujarat, Himachal Pradesh, Karnataka, and Maharashtra.) However, registration of one's marriage provides proof of it for legal purposes, and therefore it is highly recommended for women as a safety measure. A Hindu marriage can be registered under the Special Marriage Act, 1954.
When can a person remarry after passing the decree of divorce?
When a marriage has been dissolved by a decree of divorce and either there is no right of appeal against the decree or if there is such a right of appeal the time for appealing has expired without an appeal having been presented, or an appeal has been presented but has been dismissed, it shall be lawful for either party to marry again.
What can an Indian do, if abandoned by an overseas Indian spouse?
In India, you can file a complaint/ FIR under 498A IPC on grounds of cruelty with police in a local police station in the area where you were abandoned. Also, offenses committed outside India would be deemed to have been committed within the territory of India by virtue of Section 188 of the Cr.P.C. Therefore, you can lodge a complaint about the same in India.
What is the remedy if a woman has been married off before she turned 18?
A woman whose marriage was performed when she was under 15 years of age can reject the
marriage, or "repudiate" it and get a divorce on that ground alone. She can only take the step
after turning 15, but before turning 18. However, by doing so she loses the right to maintenance or alimony which a divorced woman can claim legally.
Can child marriage be valid in India?
Child marriages are illegal in India but at the same time, they are valid. If any person does not
declare his or her child marriage as void after the age of 18 years, the marriage will be valid.
[1] Section 5 of Hindu Marriage Act.
[2] Section 4 of Christan Marriage Act, 1872.
[3] Section 3 of Parsi Marriage and Divorce Act, 1963.
[4] Section 4 of Parsi Marriage and Divorce Act, 1963.
[5] Section 4 of Special Marriage Act, 1954.
[6] Article 21 of Indian Constitution, 1950.
[7] Lata Singh v. State of Uttar Pradesh AIR 2006 SC 2522.
[8] Shafin Jahan v. Asokan K.M & ORS MANU/SC/0340/2018
[9] Shakti Vahini v. Union of India MANU/SC 091/2018.
[10] Navtej Singh Johar v. Union of India MANU/ SC/ 0947/ 2018